House Cleaning Tips To Help You Create a Home that is Quick and Easy to Clean
If you're in need of some house cleaning tips then you are in the right place.
But wait!
If your house cleaning plan consists of you running around the house dusting, wiping, mopping, sweeping, washing, folding, rinsing and so on and so on...
...you need to stop!
Stop and look around you...
What do you see?
More, More, More!
More dirty laundry to put into the washer
More clean laundry to fold and put away
More dirty dishes to wash
More things to put away
More housecleaning and more house cleaning!
Admit it, your housecleaning plan is not working?
Look at the before and after picture below.
How would you like to transform the rooms in your home like this...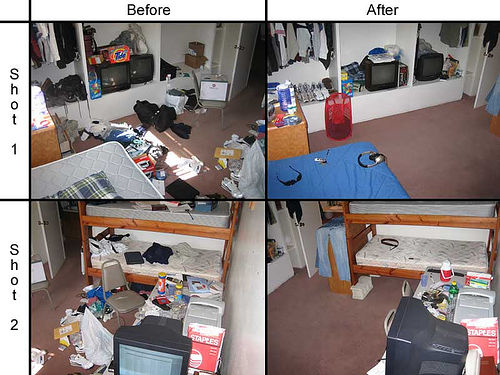 Photo by Danny Lakeboy
You don't realize it, but in the next few minutes you're going to learn the nine most important house cleaning tips you must apply to have a neat and clean home, plus...
...you'll enjoy extra fun housecleaning tips and house cleaning articles, that will help you get your housecleaning under control so that it does not seem like you're cleaning your home all the time.
Ready to get your clean on?!
Start with the house cleaning tips action plan below.
The Nine Most Important House Cleaning Tips You Must Apply To Have a Clean Home.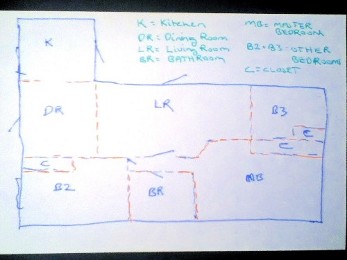 Become a house cleaning project manager, not a stuff manager - Learn how to stop being a stuff manager by practicing your own version of minimalism, finding a place for everything and having a maintenance plan.


Make a cleaning - house plan (like the badly drawn one above). Now walk each room with a notebook and a pen and a camera to take pictures. In each room take lots of pictures. Then write down all the chores that have to be done to get that room just the way you want it - clean and organized.


Make lots of house cleaning checklists. Now you have your pictures, and your cleaning tasks for each room. Sit down and create house cleaning checklists for each room. For example, in the Kitchen, you can make one checklist for cleaning the refrigerator, one for the oven, and even an after dinner cleaning checklist for the kitchen cleanup.


Make a daily household chore list. While making your cleaning house plan and checklists, it is important to remember those chores which must(should) be completed daily. For instance, the dishes, making your bed and sorting through the mail.


Establish 15 minute house cleaning plans. This is for those free moments when by some miracle you have nothing else planned. These 15 minute plans are lists of 2 to 3 chores you know can be completed in 15 minutes of less. One of these lists can include, 1) sweeping the kitchen floor, 2) dusting the window sills. If you're looking for a chore that offers a more visual impact, then another 15 minute cleaning plan can just be, Living Room: Putting everything back in its place.


Establish a family house cleaning plan. This will require a family meeting. In this way, everyone knows what cleaning jobs they are responsible for and equally important, what chores others in the family are responsible for. Also, you can layout any rules about when and how often the assigned chores should be completed. Finally, and this is optional - let everyone know the pay rate for each cleaning chore. This could be money or incentives.


Find the time to implement your plan with a house cleaning schedule. With a cleaning schedule you decide what you clean, when you clean, whose turn it is to clean what, and when to hire a maid service to clean when you don't have the time to do the really big cleaning jobs.


Time to go shopping for cleaning supplies. This could mean going to the store or shopping in your own home (I don't mean online shopping - just using what you already have). You could also consider making your own homemade cleaning products.


When you apply these tips a useful tool would be a stop clock or timer. I find this to be essential as it keeps me focussed on the task at hand - find it on any available smart phone.
Check out some more
house cleaning tips here
!
Sep 16, 19 02:01 AM

Use these family cleaning tips to get the help you need around the house.

Aug 05, 19 03:21 PM

Closet Organizing Tips - Here are the steps you should follow

Aug 03, 19 09:37 AM

Maximize your house cleaning effort with the 80-20 rule.