In A Few Minutes You're Going to Learn the Two Most Important Cleaning Tips You Should Apply To Have A Home that is Quick and Easy to Clean...
...And The Best Part...You Don't Need To Hire A Professional Cleaning Service or Professional Organizer To Do This!
Dear Fellow House Cleaner,
Spring is in the air! The days are longer and sunnier, and as you throw open the windows to let the fresh scent of the earth and its rebirth into your home, you see that they need a good cleaning. And it reminds you that you really ought to give the whole house a good Spring Cleaning.
When I was growing up, every spring as my mother would make me go through the ritual of Spring Cleaning with her, I was secretly thinking,
This Sucks!
Who wants to be inside cleaning when the sun is out and there is fun to be had?
It was only when I got older and moved away from home did I come to appreciate the simple joy of a
clean and organized home

.

As my possessions accumulated year after year, my home became a sort of storage facility instead of a sanctuary from the rest of the world.

When did things change for me..?

It took tripping over some of my junk to finally start dealing with the reality of how cluttered my life had become... and although it was closing in on December – I got ready for a Spring-Cleaning.

With overwhelming feelings of dread and self-doubt about whether I was really capable of getting my home clean and organized - I armed myself with what would become the beginnings of The Ultimate Spring-Cleaning Action Guide which I'm about to share with you.

Little by little I started to work - 30 minutes here and a couple of hours there...

At the end of just 11 days I began to see light at the end of the tunnel!
The hallways were clear...
I could walk the entire floor of my bedroom...
The front door opened fully because there was nothing stuffed behind it obstructing its movement.
By day 33, I had a maintenance plan in place. My home has been clean, organized, and clutter-freeish (-; ever since.
Now I am not saying that my home looks like something out of a Better Homes and Gardens magazine everyday...
I do fall off the wagon sometimes... But now I have an advantage. I know how I want my home to look, and I am dedicated to having it be clean and clutter-free.
Not only that...but I know how put it in order in no time at all, because I have a master plan in place.
The problem for most people, whether you are a stay-at-home parent or work outside the home all week, is how are you supposed to get all of that cleaning done without it taking until December?
And if you are one of the many people who can't seem to keep the clutter under control no matter how hard you try, your cleaning projects have probably been neglected as a result.
As such, the very thought of cleaning the whole house may be so completely daunting that you could not even choose a place to begin.
Take heart!
The Ultimate Spring Cleaning Action Guide is here to help you...
In this ebook, the drudgery of cleaning and housework will turn it into home-keeping instead. Spring-Cleaning will no longer be a major annual undertaking, because you will learn how to quickly and easily keep your home in good order, forever.
Here is some of what The Ultimate Spring-Cleaning Action Guide will give you...
Organization tips and techniques to control clutter, rather than letting it control you;

A zone-based cleaning and maintenance schedule to follow, which breaks cleaning in to manageable segments on a daily, weekly, rotational, and annual basis so that you do not spend all of your time cleaning;

A way to develop your own customized master plan, or home-keeping notebook that will keep you and your family going in the right direction year to year;

A speed cleaning method to help you fly through maintenance cleaning;

Tips and techniques for making and using your own homemade cleaning products, saving you time and money;
Sundays off! And more free time every day to do the things that make you happy!
The Ultimate Spring Cleaning Action Guide is more than a book about Spring Cleaning...it is about making zone-based maintenance a part of your life-style. By controlling clutter and breaking cleaning down into zones, you will be making your whole workload smaller overall.
There will be a natural rhythm to your home-keeping, and as a result your home will be more peaceful, your life will be less harried, and you will have much more free time.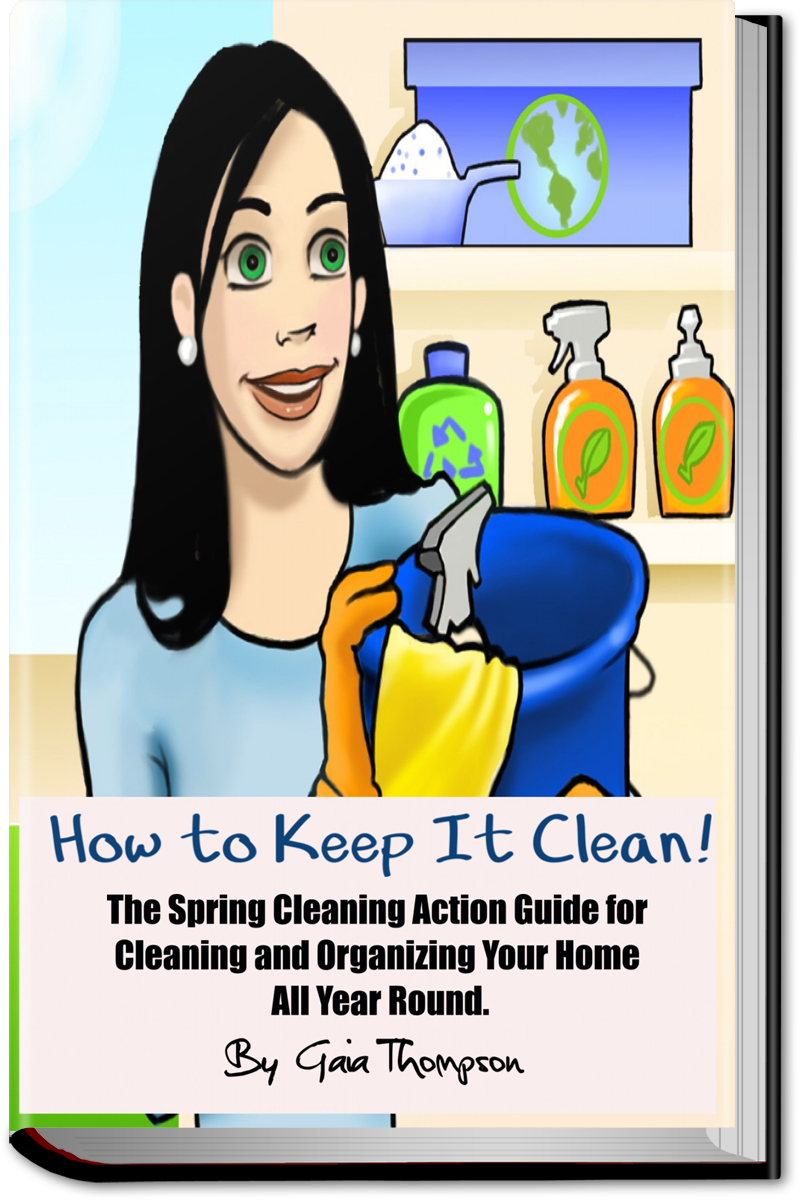 How to Keep it Clean! An Action Guide for Cleaning and Organizing Your Home.
Here is How to Claim Your Copy of "The Ultimate Spring Cleaning Action Guide"
Simply click on the image below to place your order.
You've got NOTHING to lose.
But remember... the longer you wait, the longer you'll experience the frustration and anxiety of a cluttered home that is difficult to keep clean.
So let's get started
...
To your cleaning success,
Fayola Gaia